I was really looking forward to my return to Irkutsk in Siberia, the first stop in Russia on my recent overland trip home to Europe. I was looking forward to getting reacquainted with Russia, its distinctive architecture, confusing script & gruff locals. Irkutsk provided all of that – & more – this time around & while the location yielded few other surprises (familiarity does that) it did surprise me with what ended up being the photographic highlight of the city – its train tracks.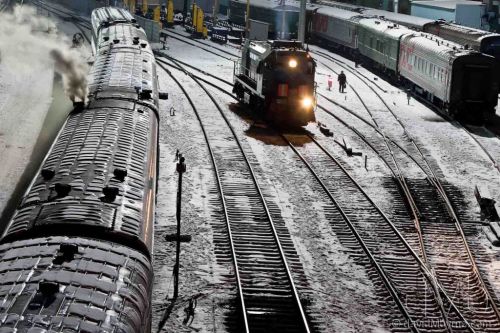 Overlooking the tracks into Irkutsk train station, Siberian Russia. November 6th 2012
The two pictures shown here were captured from the main bridge over the Angara River in Irkutsk. The bridge, passing right over the busy train station tracks, provided a good vantage point from which to view the rolling stock action. I walked across the bridge in darkness just after 7am on this morning, having just stepped off the train from Mongolia, noting how the scene had potential to photograph well. Being weighed down with bags at the time meant taking pictures wasn't possible so I returned some 14 hours later. The tracks weren't as busy as they were earlier in the day but, & with the help of terrible daytime weather, still proved to be the photogenic highlight of the 4 days I spent in the Irkutsk region.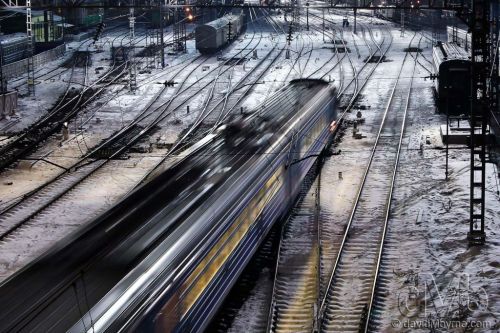 An elevated shot of a train entering Irkutsk train station, Siberian Russia. November 6th 2012
______________________________________________________
Links
dMb Photography Blog: Russia
dMb Gallery: Russia
dMb Travel: Recap my east to west trip through Russia here.
______________________________________________________