The BBC have just reminded me that today marks the 70th anniversary of the end of the Battle of Stalingrad, a decisive World War II battle & one of the bloodiest in history. The 200-day battle, with a combined military & civilian death toll estimated at 1.5-2 million, ended in defeat for Nazi Germany & marked the beginning of the end of their eastern offensive. I remember reading all about it last November in the Museum of the Great Patriotic War on the outskirts of Moscow, where I took the following pictures.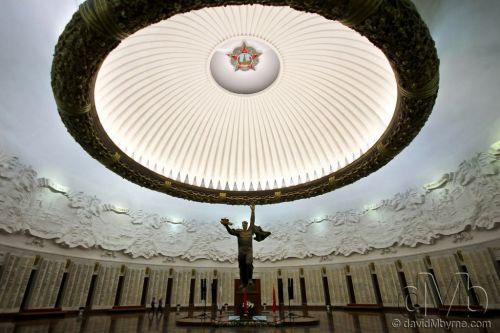 People looking very small in the massive Hall of Glory in the Museum of the Great Patriotic War, Moscow, Russia. November 20th 2012
It'd be fair to say that the museum is a tad airy – it features nearly 20,000 square meters of exhibition space – so it's a great place to bring a wide-angle lens. This room, marking the centre of the museum, is the Hall of Glory, the biggest of the big rooms. It is dominated by a large bronze sculpture, the Soldier of Victory, & massive floor standing white marble slabs that are inscribed with the names of over 11,800 recipients bestowed the title of Hero of the Soviet Union, awarded for heroic feats in service & the highest distinction awarded by the then Soviet Union. In a space like this the picture for me is all about framing and I had a it of fun in here with my lens stuck on 10mm.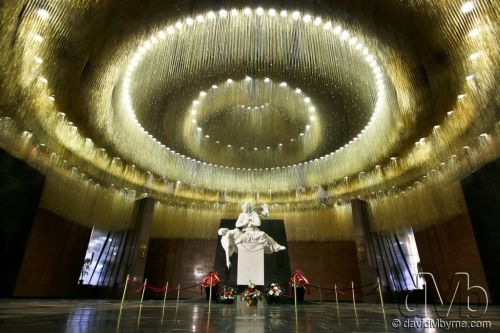 The Hall of Remembrance and Sorrow in the Museum of the Great Patriotic War, Moscow, Russia. November 20th 2012
The above room is the Hall of Remembrance and Sorrow. It honors Soviet people who died in war. It's dimly lit & while not as spacious as the Hall of Glory I did find it more photogenic thanks to the strings of glass beads hanging from the ceiling, symbolizing tears shed for the dead.
I'll eventually get around to blogging the rest of my pictures from my time crossing Russia but I'm glad to get these out now given the day that's in it.