"The best camera is the one that's with you"
- Chase Jarvis
I recently entered the Apple stable when I became the owner of an iPod Touch. It's an awesome piece of kit and I beginning to appreciate, somewhat belatedly & not to mention somewhat reluctantly, what the Apple fuss is all about. It's primarily an orginiser & media device but it also has a 5-megapixel camera, one that has opened up a new side of photography to me.

Never say never but, & while I understand the convenience, I'll never consider a multimedia device or smartphone, no matter how smart it may be, a serious tool for photography (although a lot of people do). But I'll embrace it for what I see it being – a bit of fun – & there's no doubt I'll derive a bit of merriment out of mobile photography from here on out. The vast majority of whatever mobile stuff I publish online will make its way to my travel page, some of it onto my twitter account & some again might even grace my facebook page. However, if I really like a particular mobile picture I'll upload it to the new Mobile Pictures Gallery, just like I did with the picture below, one of the very first pictures I took with the new device and still probably my favourite. Let's see where this one goes, assuming it goes anywhere.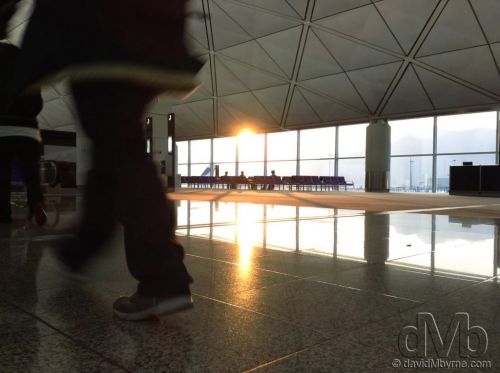 Sunrise as seen from inside Hong Kong International Airport. January 17th 2013
______________________________________________________
iPhotography/Mobile Gallery Page
To see all mobile pictures uploaded to the blog click here to visit the iPhotography/Mobile Gallery page.
______________________________________________________