Beijing is somewhere I'm very familiar with. My recent 5-day stint in the capital of the world's most populous country, the political, educational, and cultural centre of China, was my fifth visit to the city stretching back to 2004. I've seen the city change a lot over those 8 years, firstly as it strove to modernise ahead of the 2008 Beijing Olympics & secondly as it continues its drive to modernise into a city worthy of the capital of (potentially) the world's latest superpower.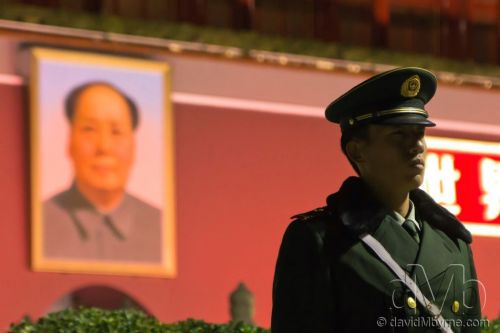 Standing guard outside of Tian'anmen Gate, Beijing, China. October 27th 2012
I gave my camera a bit of a rest in Beijing; I seemed to, as I suspected I would before I even arrived in the city, spend the majority of my time here visiting embassies & train stations in an ultimately successful, albeit prolonged, crusade to organise onward travel. I didn't have a photography to-do list for this visit but I did want, at the very least, to capture Tian'anmen Square at night (it's so much more photogenic after dark) & The Temple of Heaven, for the longest time my favourite, most photographic Beijing attraction, especially when set against a clear blue sky. I did both, and while I wasn't entirely happy with my Temple of Heaven pictures, I did get a few pictures I liked of the Tian'anmen Gate overlooking the square of the same name, the largest public square in the world & infamous as the site of many mass movements, most famously in 1989 when students and workers, peacefully protesting for democracy and against corruption & oppression, were savagely suppressed. It was from Tian'anmen Gate, on October 1st 1949, that Chairman Mao, the leader and co-founder of the Chinese Communist Party & whose massive portrait famously hangs from the gate, delivered his liberation speech, declaring that "the Chinese people have now stood up".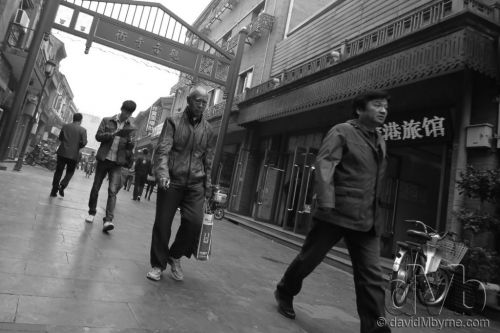 Walking through the atmospheric Qianmen district of Beijing, China. October 26th 2012
While I didn't take my camera out & about with much of a purpose in Beijing it was, of course, always with me on the streets. Therefore I did quite a bit of street photography with the above image one I captured on the streets of the Qianmen district of the city, an area of pedestrian streets, narrow alleyways & dodgy plumbing. In the push for modernisation it is this touristy area of the city, more than any other, that has received the biggest makeover in recent years – it's virtually unrecognisable from how I remember it being in 2004.
______________________________________________________
Elsewhere
dMb Blog Entries: China
dMb Gallery Images: China
dMb on flickr: China
______________________________________________________