It might surprise a few to know that Shanghai is actually the largest city in China. It might also be fair to say that not a lot of people know a lot about the city – it's one of those under-the-radar cities, one travellers don't seem to give much credence to. I spent a few days here as part of my recent dash from Hong Kong to Beijing &, the terrible weather aside, I managed to get a few pictures I liked.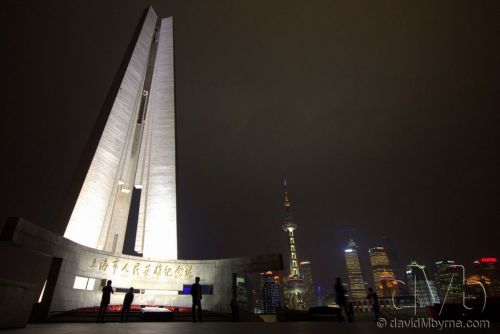 Monument to the People's Heroes in Huangpu Park, Shanghai, China. October 22nd 2012
Shanghai would have passed for a sleepy fishing town as recently as 1842. It was then the British opened their first trading concession, realising the value of its position as the gateway to the Yangtze River. Others soon followed (the French, the Japanese) looking for their cut of the spoils & by the 1930s the city was the largest commercial centre in the Far East.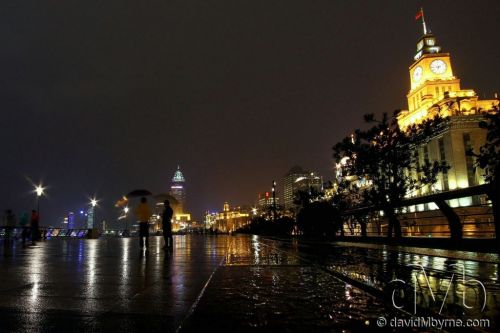 A rainy night on the Bund in Shanghai, China. October 22nd 2012.
During Shanghai's riotous heyday under the British the colonial riverfront, the Bund, was the city's financial and commercial centre. Lined with grand edifices & particularly photogenic at night, the Bund waterfront is a vagabond assortment of neoclassical 1930 downtown New York styles & monumental antiquity. One of the most famous Bund buildings is the Customs House, illuminated above. The 1925 building is topped by a clock face modelled on Big Ben, the clock tower in London's Houses of Parliament.
For all its early advances Shanghai languished after the communist takeover of 1949, ironic considering the Communist movement started in the city. However, thanks to a 1992 market-economic redevelopment the city is once again driving the Chinese economy, evident by the legions of skyscrapers in the economic Pudong area of the city, across the Huangpu river from the classic colonial Bund.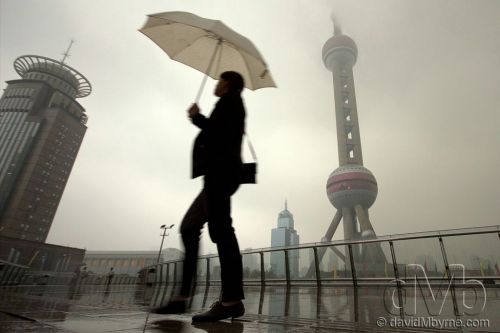 A dreary day in the Pudong area of Shanghai, China. October 22nd 2012
The most famous sight in Pudong is the Oriental Pearl TV tower, seen above shrouded in afternoon mist. In 1990, when this whole area was boggy agricultural land, the government, in a bid to kick-start Shanghai's development, decided to grant the area Special Economic Zone status. 22 years later & construction is still going on unabated. When I was last here in 2004 I blogged how there was a particular skyscraper under construction, the twin-towered Shanghai International Finance Centre, which, upon completion, would be the tallest building in the world. Well it's built (and I took a stroll around the plush stores of its lower reaches), although these days it's no longer the tallest building in Shanghai, let alone the world.
______________________________________________________
The Complete Shanghai Gallery

______________________________________________________
Elsewhere
dMb Blog Entries: China
dMb Gallery Images: China
dMb on flickr: China
______________________________________________________